Growing up in Southern New Hampshire on many acres we always had at least one dog – usually more – I spent many the long summer day exploring the woods and property with the dogs.
My family moved to Vermont in 1982 and shortly afterwards I began horseback riding lessons. As any typical horse-obsessed child (who was for many years horseless) would have done, my dogs quickly became surrogate ponies and learned to play agility and obedience before agility was popular. Missy (golden mix) and Dundee (Aussie) jumped whatever I could find in the yard: cinder blocks, logs, my younger brother - even my little red wagon.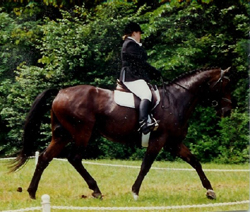 As a teenager I became hooked on dressage (after a very brief hunter/jumper period) winning several high point Jr/Yr awards. I spent many summers on the road showing horses as a Junior Rider and performing as part of a Jr/Yr quadrille team (I also did my fair share of grooming and chase crew duties).

I got my first golden (Kasei) in 1997. Kasei lived in the dorms with me at Skidmore. In true golden fashion Kasei loved everyone and actually adapted well to dorm life - he did have a knack for forgetting his name and running off a lot which necessitated my investment in some serious dog training! At nearly 30" tall, Kasei was a big presence where ever he went and as much as Kasei loved his people and all children, he detested puppies and didn't get along with many dogs outside his pack - he taught me so much about the language and behavior of dogs and how important a "golden" temperament really is for a golden retriever. With a great deal of training and trust, Kasei eventually went on to become an AKC Canine Good Citizen and a therapy dog before retiring as a couch potato and treasured companion.

Murphy came along in 2004 and was my introduction to all things dog sports. What started out to be a single puppy class progressed into rally, obedience, therapy work, tracking and agility. Showing Murphy has certainly been a lot of ups and downs - but he has taught me so much - mostly humility, perseverance and PATIENCE!! Murphy is mostly retired now, he is often put to work as demo dog and puppy socializer in my classes.
When Kasei passed away in 2005 I began looking for my next performance dog. There were a lot of options but I wasn't in a hurry nor was I willing to sacrifice temperament or bidability for drive - or conformation for athleticism. I wanted the whole package and I wanted to do it all! There was a little problem in that Mr. Murphy was incredibly lonely as an only - so a few months later instead of a puppy, I brought home kitten 'Q' to keep Murphy company. So if you see various pictures and references to Q on our blog - that's Murphy's grey kitty!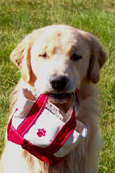 Teller was born in 2007. He has introduced me to the worlds of Conformation and Fieldwork and he's also training in obedience, rally, agility and tracking. Teller is one of those dogs that greets every morning with gusto and zeal. Every stranger is greeted as a long lost friend. His wit is matched by his desire to please. He's observant and "helpful". I joke that I hope I am never as helpless as Teller thinks I am - Teller is always picking up dropped objects, turning on light switches, finding keys and remote controls, fetching my shoes and the newspaper or carrying his own show gear into and out of trials. In his first year of competition (8 weekends out) he finished a total of 10 titles (obedience, rally and agility) and earned his first few MACH points! At four years old now Teller has two CDX legs and is chipping away (well over half-way) towards his AKC MACH.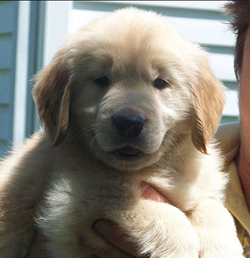 In January of 2011, a potential breeding came Teller's way and I couldn't resist a stud-fee puppy from this pairing. The result was Kipling (conceived on Valentines' Day, pregnancy confirmed on St. Patricks Day and born on Palm Sunday). Kipling is at times so much like his father it amazes me. Murphy has always been my puppy raiser and I expected him to take the lead with Kipling, to my surprise however, it's been Teller who has really stepped up and taken an interest in the puppy. Kipling will likely start his career in the breed ring (probably in Canada) and will start learning about all things agility, obedience and field over time - after he's had a good long no pressure puppyhood!
More than show dogs, Murphy,Teller and Kipling are first and foremost my companions - they are allowed and encouraged to swim and get dirty, sleep on the furniture (though not when they're dirty), eat chewies and roll in stinky stuff (ok maybe not encouraged to roll in stinky stuff). All three are pampered house dogs and we wouldn't have it any other way!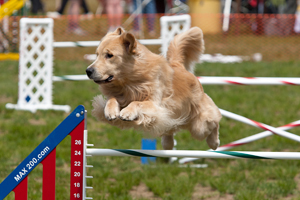 I am a member of the Burlington Obedience Training Club, NOMAD, Agility Clubof New Hampshire and the Golden Retriever Club of America. In real life, I'm a Senior Systems Engineer (MCP, MCSA, MCSE, MCITP and CCSE) working mainly with e-commerce web environments and as a consultant specializing in Microsoft servers, Active Directory Environments, Exchange (email), Routers and Firewalls. From time to time I dabble in graphic and web design and have several small sites that I design and maintain.
Magica Goldens is a word-play off Teller's registered name (Light and Magic) and Erica. Teller is of course named after Raymond Joseph Teller the cute, clever and whimsical Teller from the famous duo of Penn and Teller. Teller's life-long ambition is to meet his namesake and swap pawtographs.
You can follow our day to day adventures on the Magica blog.